Course details
ж Secretary -self concerned ж [Relaxing 3H wedding second party meeting with all-you-can-drink all-you-can-e 4000 yen]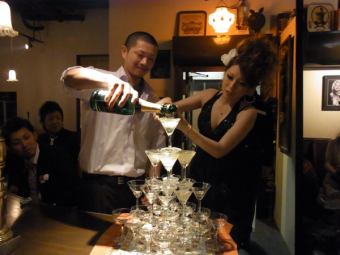 By using a coupon4000 yen
All-you-can-drink available

Draft beer is OK OK ☆ Fulfilling lineup of unique if you can drink 2H drinks!
Available days for reservation

Monday - Sunday - Public holidays - Holidays
It is a course full of privileges that the secretary does not prepare anything.It also takes 3 hours, the plan is perfect for a second session with more directing ★ 2nd meeting once in a lifetime.Thinking about this, it was finished.To the organizer 【Elite Park parking ticket for 2 hours】 Service ♪
Course menu
1, easy knob to get together
2, salad with shredded vegetables and tomatoes
3, classic French fries
4, homemade cheese melts PIZZA
5, fried with special vegetables and eat a lot
6, Today's penne
7, today's pilaf
8, Women friendly dessert
A course of 3 hours has arrived.
Moreover, there are plenty of benefits, secretary-san relieved.The bride and groom should have a good feeling!
We made a request with customer's request.
Welcome board at the entrance
Music service, at the same time entrance, flower shower, microphone lending, time control,
Candle relay, cake, one hour free extension, delicious dishes, plenty of cocktails.
Of course, Cheki lending.
Please ask me anything
All-you-can-drink menu
· BEER
·draft beer
· GIN BASE / VODKA BASE
· Gin Tonic · Jinback · Gin Ricky · Jin Lime / Vodka Tonic · Vodka Back · Vodka Rickey · Salty Dog · Bulldog · Screwdriver
· RUM BASE / TQULA
· Rum Coke · Rum Ricky · Rum Tonic · Lamb Orange · Lamb Grape / Tequila Tonic · Tequila Back · Tequila Rickey · Ambassador
· Peach / lychee
· Fuzzy Group · Peach Grape · Peach Soda · Reggae Punch / China Blue · Lychee Orange · Rauchi Soda · Lychee Pine
· Cassis / Campari
· Cassis Orange · Cassis Grape · Cassis Oolong / Campari Grape · Campari Orange · Campari · Soda · Campari tonic
· BEER cocktail
· Peach Beer · Shandigafu
· Shochu / whiskey / plum
· Oolong High · Water · Grapefruit Sour · Calpis Sour / Early Times · Ballantyne (each rock · water split · soda split) / plum wine rock · plum wine soda · plum wine grape
·Non-alcoholic
· Orange Juice · Grapefruit Juice · Pine Juice · Ginger Ale · Cola · Calpis Orange · Cinderella · Oolong Tea
Coupons that can be used with this course
2018/11/29 update