Course details
【Wedding 2nd Organization】 With benefits to choose 2H Includes free drink 3000 yen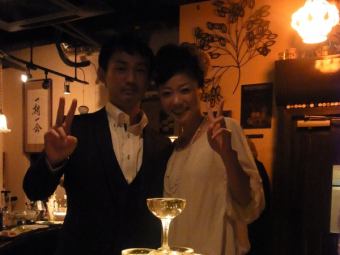 By using a coupon3000 yen
All-you-can-drink available

Draft beer is OK OK ☆ Fulfilling lineup of unique if you can drink 2H drinks!
Available days for reservation

Monday - Sunday - Public holidays - Holidays
Welcome board creation · Bingo game loan · Guide number · Create number of people · We can prepare your favorite benefits besides video screening on a large monitor __Please prepare a good deals plan ☆ To the secretaries 【Elite park parking ticket 2 hours Minutes】 Service ♪
Course menu
1, Assorted dried items
2, flavored vegetables and tomato salad
3, classic French fries
4, homemade fabric Mix Pizza
5, fried from plenty of vegetables
※ In Mario, according to your wishes, party cooking is coordinated ☆
Request your favorite dish ♪ Please consult the shop first, such as budget and time
【Wedding Secondary Meeting Award】
You can choose two from 1 to 6 benefits ※
1. Champagne Tower
2. Cake
3. Bouquet
4. Original cocktail with bride and groom
5. Additional dish of food
6. Free for one secretary
※ For 20 guests charter
Besides, welcome board creation · Bingo game loan · Guide card number creation · A large screen monitor benefits are provided.
All-you-can-drink menu
· BEER
·draft beer
· GIN BASE / VODKA BASE
· Gin Tonic · Jinback · Gin Ricky · Jin Lime / Vodka Tonic · Vodka Back · Vodka Rickey · Salty Dog · Bulldog · Screwdriver
· RUM BASE / TQULA
· Rum Coke · Rum Ricky · Rum Tonic · Lamb Orange · Lamb Grape / Tequila Tonic · Tequila Back · Tequila Rickey · Ambassador
· Peach / lychee
· Fuzzy Group · Peach Grape · Peach Soda · Reggae Punch / China Blue · Lychee Orange · Rauchi Soda · Lychee Pine
· Cassis / Campari
· Cassis Orange · Cassis Grape · Cassis Oolong / Campari Grape · Campari Orange · Campari · Soda · Campari tonic
· BEER cocktail
· Peach Beer · Shandigafu
· Shochu / whiskey / plum
· Oolong High · Water · Grapefruit Sour · Calpis Sour / Early Times · Ballantyne (each rock · water split · soda split) / plum wine rock · plum wine soda · plum wine grape
·Non-alcoholic
· Orange Juice · Grapefruit Juice · Pine Juice · Ginger Ale · Cola · Calpis Orange · Cinderella · Oolong Tea
Coupons that can be used with this course
2018/11/29 update