Course details
Reservation on the day OK! 【Gratin fondue & fruit bulk with ★】 2H drinks are available including all 3 items 2800 yen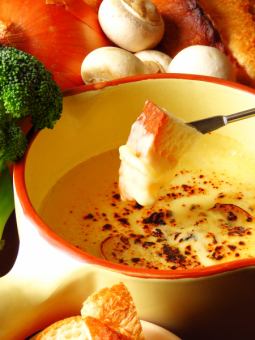 2800 yen
※ 1 member free for booking for 10 guests
All-you-can-drink available

Draft beer is OK OK ☆ Fulfilling lineup of unique if you can drink 2H drinks!
Available days for reservation

Monday - Sunday - Public holidays - Holidays
Person who wants to suppress the price! You can drink a real cocktail of BAR.All you can drink for 2 hours with 3 items! 【Hot Grain Fondue】 & 【Fruit Assortment】 with "Homemade Beshamel Sauce"! Even on that day OK! Please do not hesitate to contact us ♪
Course menu
3 dishes
· Vegetable stick
★ Radish, carrot, cucumber is included, special sesame seeds.
· Gratin fondue
★ It is a homemade beshamel sauce fondue!
· Healthy fruit
You can also change the dish.
Since it is EX Second party, I do not need fried foods. . .
A You can change to a simple appetizer platter.
I want you to convert it to EX dessert. . .
A Of course, that's fine.I can do French toast.etc
☆☆☆☆☆☆☆☆☆☆☆☆☆☆☆☆☆☆☆☆☆☆☆☆☆☆☆☆☆☆☆
☆ ★ ☆ Group of over 10 people Reservation award service ☆ ☆ ☆
☆☆☆☆☆☆☆☆☆☆☆☆☆☆☆☆☆☆☆☆☆☆☆☆☆☆☆☆☆☆☆
(1) One whiskey service for every 10 people!
Reserved parties are also very popular ♪ Reservation OK ♪
Large screen, DVD player,
Video and sound equipment such as microphone available.
All-you-can-drink menu
· BEER
·draft beer
· GIN BASE / VODKA BASE
· Gin Tonic · Jinback · Gin Ricky · Jin Lime / Vodka Tonic · Vodka Back · Vodka Rickey · Salty Dog · Bulldog · Screwdriver
· RUM BASE / TQULA
· Rum Coke · Rum Ricky · Rum Tonic · Lamb Orange · Lamb Grape / Tequila Tonic · Tequila Back · Tequila Rickey · Ambassador
· Peach / lychee
· Fuzzy Group · Peach Grape · Peach Soda · Reggae Punch / China Blue · Lychee Orange · Rauchi Soda · Lychee Pine
· Cassis / Campari
· Cassis Orange · Cassis Grape · Cassis Oolong / Campari Grape · Campari Orange · Campari · Soda · Campari tonic
· BEER cocktail
· Peach Beer · Shandigafu
· Shochu / whiskey / plum
· Oolong High · Water · Grapefruit Sour · Calpis Sour / Early Times · Ballantyne (each rock · water split · soda split) / plum wine rock · plum wine soda · plum wine grape
·Non-alcoholic
· Orange Juice · Grapefruit Juice · Pine Juice · Ginger Ale · Cola · Calpis Orange · Cinderella · Oolong Tea
2018/11/29 update